We provide a comprehensive IR35 status assessment and compliance service, with a unique component that substantially bolsters contractors' Outside IR35 credentials, supporting preservation of Outside IR35 engagements for the benefit of clients, recruiters, contractors and British industry as a whole.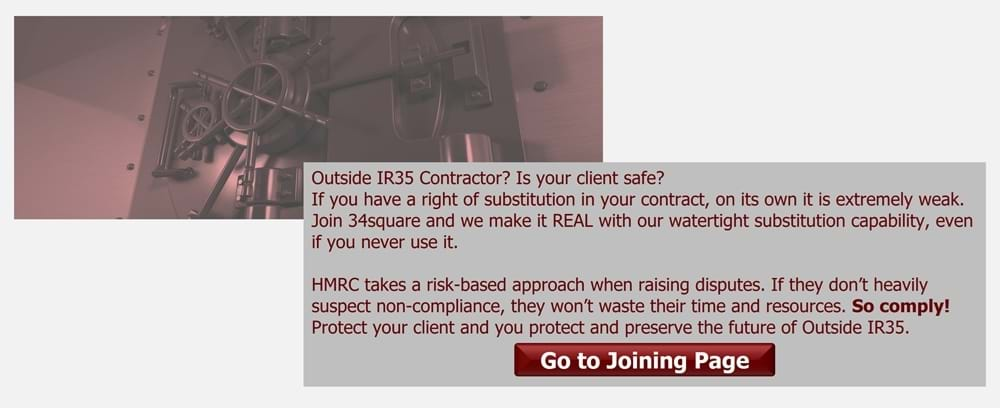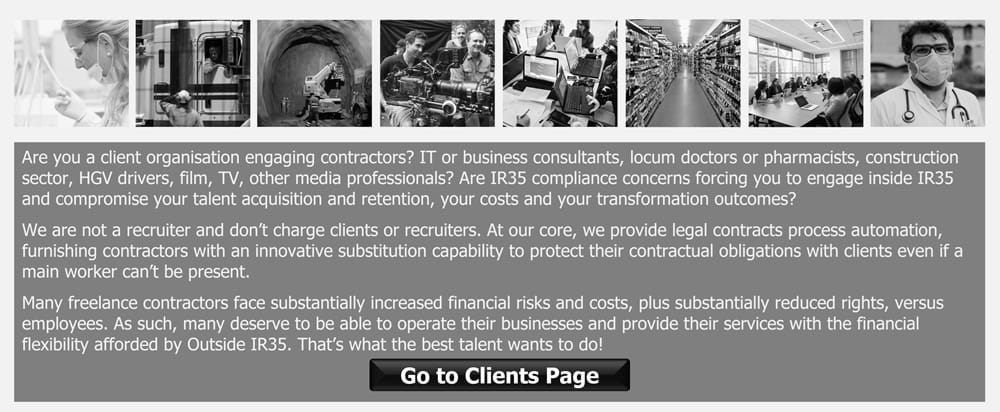 Client organisations can engage their critical contractor resources safely via their chosen recruitment channels, with the unique, specific and robust outside IR35 credentials those contractors acquire with 34square membership. That means you can retain the services of the very best talent and you don't have to pay inflated inside IR35 rates.
Read more here about addressing your wider risk exposure and not just an arguably only perceived and innocuous one:
https://www.34square.com/blog/article/perceived-ir35-risk-avoidance-exposes-a-more-insidious-and-probable-risk-in-its-place.
Recruiters can help your client organisations to do just that, and develop your trusted advisor relationship, by introducing our unique capabilities into your engagement process.
Clients can perform a robust, simple-to-use, explicitly guided
IR35 assessment process
and
generate and store a detailed, equally explicit Status Determination Statement for each engagement. You can do it yourself, or ask your contractor or agent to send a completed one for your approval or refinement, or we can help you walk through it.
Contractor members of 34square can also render a

Right of Substitution

in your contract essentially unchallengeable even if you never utilise a substitute, with our ground-breaking substitution process, including an innovative legal contract process automation capability and an optional
Right of Substitution Declaration
, to be used only should the critical client need arise. Read more
here
.


Why are these factors SO critical?
Clients are legally obliged to take reasonable care in assessing the IR35 status of their contractors, and robust IR35 assessments and status determination statements are an instrumental component. Of course clients can just avoid those obligations and restrict their talent reach to those that will tolerate inside IR35 contracts. But think about it... notwithstanding the fact some contractors will have really felt they had no choice, which contractors can afford to hold out for or insist upon an Outside IR35 contract? Why not instead spend just a few minutes per resource and extend your reach to the FULL talent pool?




There are multiple paths to an outside IR35 status conclusion in our tool and a right of substitution is not obligatory in generating such a conclusion. However, a right of substitution is the singularly most powerful driver of an outside IR35 status. It's the LAW. Its presence obliterates any notion of the existence of a personal service, therefore rendering an engagement 100% a contract FOR SERVICES and outside IR35, and NOT a contract OF SERVICE akin to employment. There are those that will tell you it is a loophole or a sham and if you can't back it up with capability and intent, they'd be right. With 34square, you CAN, and they'd be wrong.




Right of Substitution is the first area HMRC attacks in any dispute. Out of 36 IR35 appeals tribunals we reviewed, 26 cases had weak rights of substitution, many with lines in contracts. In deliberation and witness testimony, HMRC is adept at breaking the right apart, either because the right is too restricted or fettered, or perhaps because witness testimony contradicts the contract content. Sometimes back to back contracts aren't sufficiently aligned. Or it could simply be that there's insufficient evidence of any intent or capability. HMRC won 17 of those 26 cases with an absence of a strong right of substitution and/or feasibility to execute in line with their stipulations. Read the

full blog

about the power of 34square to immunise you from this HMRC attack.